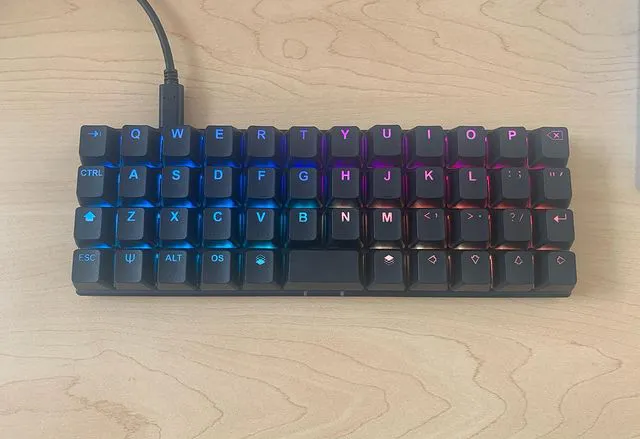 The keyboard in the picture is my Planck EZ. I explored about building keyboards (and will hopefully do this someday).
~ This is a rabbit hole ~
Places that sell stuff
TechKeys for keycaps and some weird goodies like 1-key keyboards
SpaceCat - apart from other things has an Alpha PCB to build a sample keyboard. Might be better to get a Gherkin from MechBoards.
MechBoards has some good kits. The Iris kit and Lets Split kit are good. Compare the cost when buying.
keeb.io has kits and guides
CannonKeys sells some inexpensive practice kits
Happy Hacking Keyboard (HHKB) and Leopold F660C

Both are expensive.
Both use Torpe switches.

CandyKeys has a lot of keycaps and switch options
X-bows keyboards
Check AliExpress and NewEgg too
Notes for custom builds
Case & PCBs
Check if the PCB has LEDs or if it atleast supports it. SMB LEDs are the kinds of LEDs that I've come across so far - flat and can be soldered to PCB.
Get a Tofu65 case with a KBD67 PCB.
Key switches
Gateron can be better than Cherry MX.
Browns are better for me.
Checkout low-profile switches (comes in both optical and mechanical variants).
Sometime tryout Holy Panda or Glorious Panda switches.
Keycaps
Keycaps come in various sizes. 1u and 2u are common. Check size before buying.
Check if the keycaps work with the key switch being used.
Controller
Use an Elite-C controller which is a clone of SparkFun Pro Micro, but with a USB-C instead of micro-USB. Pro Micro is cheaper but the usb port has a reputation of getting ripped off the board.
QMK firmware supports a number of keyboards
QMK supports Atmel and AVR ICs. Infact the Pro Micro is an Arduino clone. Maybe I can use one of the Arduino boards? (QMK seems to support ATMEGA328up)
What if I used my own controller?

There is a possibility of using a Teensy microcontroller. But again it's micro-USB.
SeeedStudio Xiao is cute (like a Tomu with pin-outs). But the cortex-based chip used by the Xiao is not supported by QMK.
Kits
Check if case and keycaps are being sold with the kits. Else have to buy them.
Other people's notes on making keyboards